The project ColliEuganei.it
Exploring and enhancing the Euganean Hills territory
The project ColliEuganei.it represents the brainchild of a company based in the Euganean Hills and its founders that sharing the same passion and love for their own land have decided to invest in a dream.
Tabs/ reviews with unique texts and exclusive pictures
Travelling and discovering all nooks of our beloved Euganean Hills, we could capture the most inspiring images and describe all the most significant places.
Users will find detailed information pertaining to castles, villas, churches and museums, as well as outstanding naturalist sites such as parks, lakes, trails, paths and panoramic views.
Our website contents were drawn up thanks to a thorough preparation of profiles, then translations were carried out by professionals with no automated tools.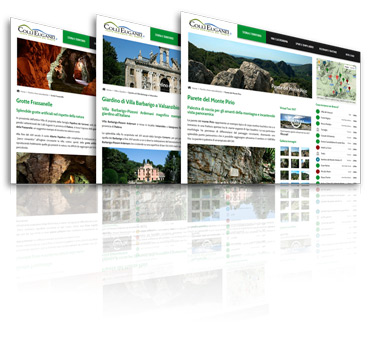 Geolocation
The localization of all tabs by GPS coordinates offers the chance to easily explore the environment, discovering new places to see.
Each page provides a review along with a linked list of all the other attractive sites ordered according to distance: this will enable users to surf easily and independently from one point to another of the area.
360° Virtual Tours
A Virtual Tour is a 360° navigable and immersive panoramic photo, that allows an interactive 'visit' of the place, providing experiences that no other device can offer..
Thanks to our highest quality Virtual Tours, we will get you to enjoy breathtaking sights from the most scenic spots, we will take you through historical centers and ancient hamlets, even inside villas, castles and monasteries, places of inestimable value and beauty indeed.
.
If a picture is worth more than a thousand words,
what is the value of a virtual tour?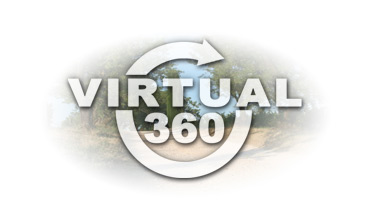 Integrated platform
We have managed to integrate all these tools into a single platform, performing a portal which is highly intuitive and quick as well as multilingual and suitable for both PC and for mobile phones.
Through our geolocalization integrated to reviews and Virtual Tour you will:
- Search for details about a site or monument;.
- Admire it by means of Virtual Tours;.
- Walk along a path until discovering a hidden old church and get inside;.
- Click on the link and read its story.
.
You will experience a dip in a brand new browsing as unique as you never tried before.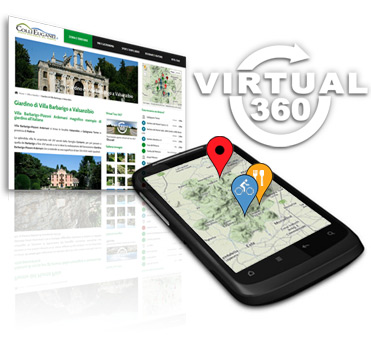 Let your business fly!
Our own philosophy is: always be the number one in anything we do.
This is why we have invested to create the n°1 site in the Euganean Hills and act as reference point to anyone interested in getting information and details about our land.
What about involving also the area facilities at this point?
You would have the chance to virtually visit even restaurants and hotels, "entering" for instance the dining room or a bedroom and then go out and make your reservation!
ColliEuganei.it pursues the primary goals of promoting the area as well as fostering local facilities. All these efforts aim at achieving more visibility both nationally and internationally, by means of targeted web marketing strategies